Utah County is governed by the Board of County Commissioners. This three-member Board has executive, legislative, and judicial functions which are set by State statute. The Commission is responsible for levying taxes, adopting ordinances, and making policy which affect all of the County's nearly 623,000 residents. Commissioners are elected for four year terms.
Commissioner Bill Lee
Commission Chair
William Christensen Lee, better known as Bill Lee, is a proven leader who believes in fiscal conservatism, defending our constitutional rights, listening to the public, and bringing people together to accomplish great things. He uses these principles to continually build a stronger Utah County by tackling the tough issues of today and preparing for future growth.
Bill was born in Salt Lake City. The oldest of eight children, he has enjoyed growing up and living in Utah. He learned to work hard from an early age by rising early for paper routes and working on a dairy farm. As a young man he served an LDS mission in Charleston, West Virginia. He also attended Brigham Young University, where he studied political science. While attending BYU, Bill met his wife, Karen, and today they are the proud parents of seven children.
Bill is an entrepreneur with a professional business license in HVAC, and he has over 25 years of experience working in that industry. He knows the pressures of finding work, marketing, budgeting, working with employees, and meeting a payroll every week. In the three years prior to being elected a county commissioner, he worked as U.S. Senator Mike Lee's deputy state director.
The door is always open in Bill's office. He invites you to engage in constructive dialogue with him as we all work towards building a stronger Utah County.
Commissioner Tom Sakievich
Commission Vice Chair
Information coming soon.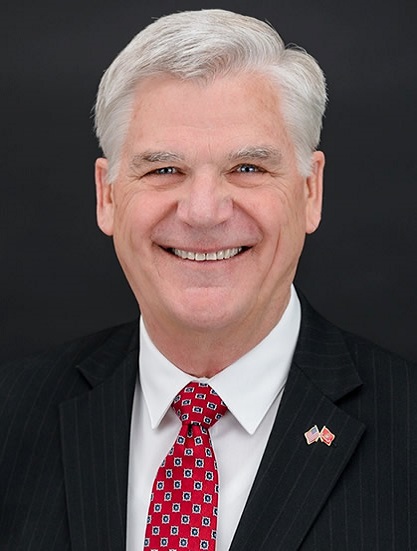 Commissioner Amelia Powers Gardner
Commissioner
Amelia Powers Gardner has over 15 years of experience in the private sector working in engineering, manufacturing, and business development. She grew up in Utah County before earning a Bachelor of Science in Automotive Technology from Weber State University. After college, she worked for Caterpillar, spending time in the Midwest, southern US, and Canada, before returning home to Utah County where she now serves as Utah County Commissioner.
Prior to being elected as Commissioner, Amelia served as the Utah County Clerk/Auditor, where she championed innovation and efficiency in government. Under Amelia's leadership, Utah County launched the first ever completely online marriage license portal, became the first jurisdiction in the US to allow people with disabilities to vote using blockchain technology, and implemented performance-based budgeting. She plans to bring the same transformative improvement to the rest of the County as Commissioner.
Amelia is an elected official, community leader, business consultant, disruptive technology advocate, government innovation leader, and mentor for career women.
She and her husband Tobin live in Pleasant Grove, UT and have 6 children.
Portfolio Assignments
All Commissioners have the Sheriff's Office and the Justice Court in their portfolios.