Where Do Your Property Tax Dollars Go?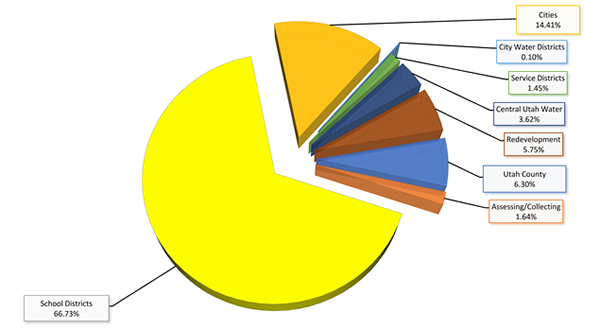 In 2019, Utah County Residents paid a total of $553,094,018* in Property Taxes. Those taxes were distributed to the various local governments in the following amounts:


School Districts
$369,075,102 total tax distributed
66.73% of total tax paid


Cities/Towns
$79,676,239 total tax distributed
14.41% of total tax paid


Utah County
$34,846,902 total tax distributed
6.30% of total tax paid


Redevelopment Agencies
$31,804,236 total tax distributed
5.75% of total tax paid


Central Utah Water District
$20,040,240 total tax distributed
3.62% of total tax paid


Local & State Assessing/Collecting
$9,060,705 total tax distributed
1.64% of total tax paid


Service Districts
$8,037,480 total tax distributed
1.45% of total tax paid


City Water Districts
$553,115 total tax distributed
0.10% of total tax paid
*Data is courtesy of the 2019 Treasurer 750 report available through the Utah State Tax Commission tax rate website: https://taxrates.utah.gov/Login.aspx
Truth-in-Taxation Summary and Contact List







*Year of last tax rate increase for years 2000 to present due to Truth-In-Taxation only. Tax rate increases due to judgement levies, voter approved bonds, or other adjustments that did not require a public hearing are not included.