Utah County boasts a variety of fun things to see and to do. There are outstanding scenic views, including Mount Timpanogos, Bridal Veil Falls, Cascade Springs, Squaw Peak, Alpine Loop Scenic Byway, and Nebo Loop Scenic Byway. Or if you're a history buff, Utah County has some interesting historic sites like the Historic Courthouse, Fort Utah, and others.
Because the "Greatest Snow On Earth" is in Utah, skiing is a favorite winter activity. There are many excellent ski areas, within an hour's drive of Utah County, including Utah County's own Sundance Resort in Provo Canyon which is owned and operated by actor Robert Redford.
Collegiate sports are brought to the county by Brigham Young University and Utah Valley University, both members of the National Collegiate Athletic Association (NCAA).
With all of the parks, lakes, and mountains, there are many fun outdoor activities. Biking, hiking, and boating are a few of the things you can do. Hunting and fishing are also favorite activities. Hunting in Utah County includes animals like deer, elk, pheasant, and waterfowl. Utah County also has facilities for golfing, dancing, and ice skating. In the summer you can cool off by playing on the water slides at our own Seven Peaks Resort Water Park.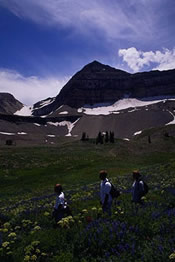 The culture is enriched by museums and art galleries such as the Springville Museum of Art, BYU's Museum of Art, John Hutchings Museum of Natural History, Thanksgiving Point' Museum of Ancient Life, The Apple Basket, and Elite Photography and Gallery. There are also plenty of concerts, operas, dramas, musicals and movies at a variety of theaters, tabernacles, and schools.
Many of the cities in Utah County hold special celebrations throughout the summer months featuring parades, carnivals, rodeos, horseracing, fireworks, and other such events. These celebrations include Provo's "America's Freedom Festival" which is the largest 4th of July celebration in the United States, Pleasant Grove's "Strawberry Days", Payson's "Onion Days", Spanish Fork's "Fiesta Days", Orem's "Summer Fest", American Fork's "Steel Days", Lehi's "Roundup", Santaquin's "Orchard Days", and Springville's "Art City Days."