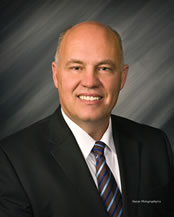 Biography
William Christensen Lee, better known as Bill Lee, is a proven leader who believes in fiscal conservatism, defending constitutionally limited government, and bringing people together to accomplish great things. He looks forward to having the opportunity to use these principles and experiences in building a stronger Utah County by tackling the tough issues of today and preparing for future growth.
Bill was born in Salt Lake City. The oldest of eight children, he has enjoyed living in Utah all of his life. He learned to work hard from an early age by rising early for paper routes, working on a dairy farm, and earning his way through college. As a young man he served an LDS mission in Charleston, West Virginia. He also attended Brigham Young University, where he majored in Political Science. While attending BYU, Bill met his wife, Karen, and today they are the proud parents of seven children.
Bill is an entrepreneur with a professional business license in HVAC and has over 25 years' experience working in that industry. He knows the pressures of finding work, marketing, budgeting, working with employees, and meeting a payroll every week. Over the last three years he worked for U.S. Senator Mike Lee, where he enjoyed serving constituents throughout Utah as the senator's deputy state director.
As a new Utah County Commissioner, Bill invites you to engage in the conversation with him in helping to build a stronger Utah County.