Sheriff Smith Outlines Acceptable And Unacceptable Activities During Protests
Posted On : 7/13/2020 11:19:17 AM
After receiving numerous inquiries from citizens, Sheriff Mike Smith has issued a release outlining what kinds of activities are acceptable vs. unacceptable during protests.
*** PRESS RELEASE - July 13, 2020 ***
Over the past several months Sheriff Smith and others at the Utah County Sheriff's Office have received numerous inquiries from people who want to know what they can and cannot do in response to political and social protests we have all seen reported in the news. Sheriff Smith wants people to understand that it is each individual's responsibility to know the laws and how they apply to them. He recognizes that he cannot specifically address every possible scenario that could arise and how to respond to it, but he wanted to outline a few issues that would apply to any protests similar to those that have occurred locally and nationally.
For questions contact Sergeant Spencer Cannon, Public Information Officer, Utah County Sheriff's Office.
(801)404-1912 - Cell (Best)
(801)851-4333 - Office
Twitter: @SGTCannonPIO or @UCSO
Email: jamesc@utahcounty.gov
Photos :
Acceptable Activities Press Release pdf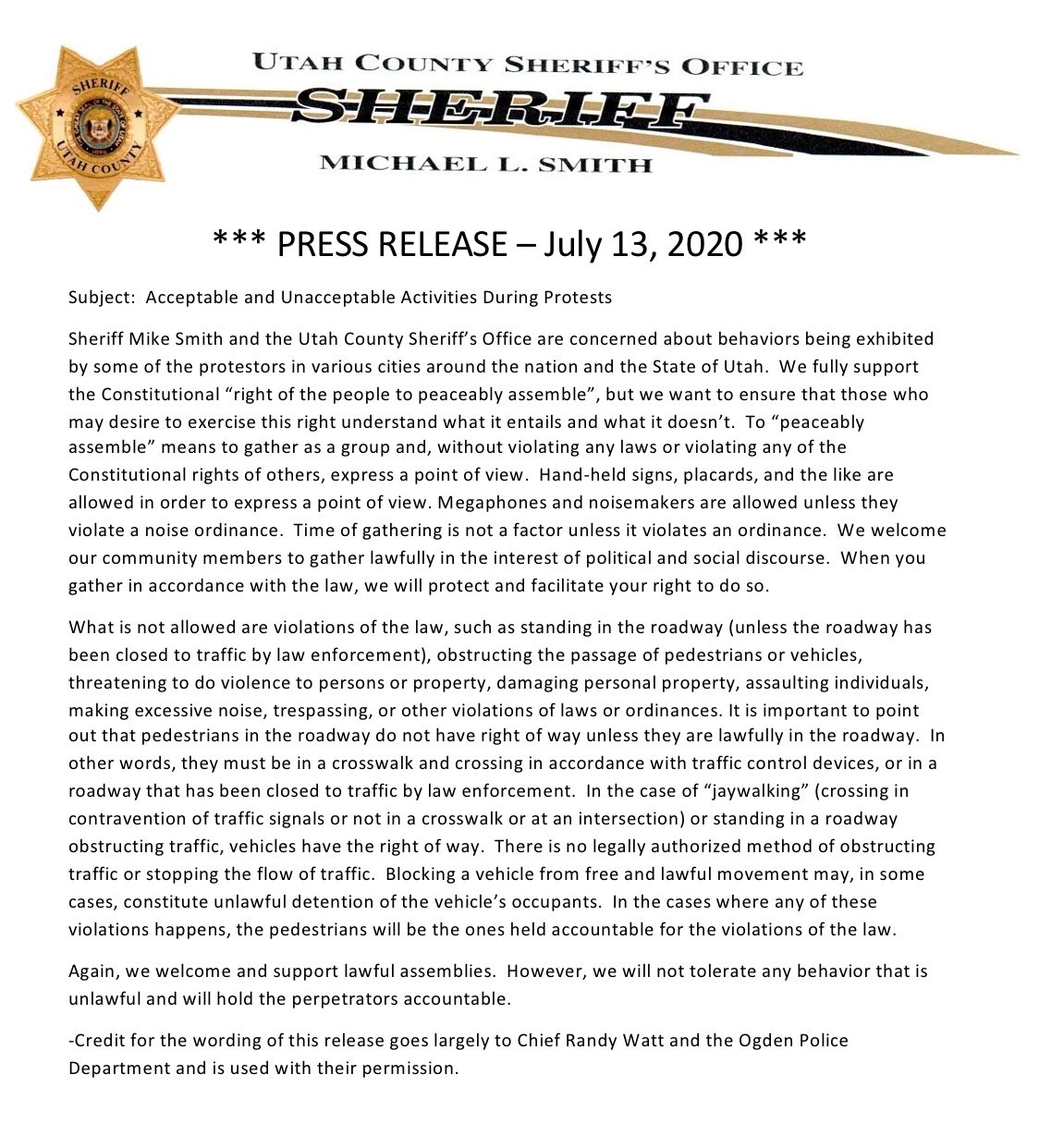 Acceptable Activities Press Release jpg
Related Documents:

(NOTE: Some documents may be in the .pdf format. You must have Adobe Acrobat Reader to view pdf files. Most web browsers include the Reader plug-in. If you do not have the Reader, it is a free download from the Adobe web site.)

2020_07_13_Sheriff_Smith_Lawful_Assembly_Letter.pdf
Acceptable Activities Press Release pdf
2020_07_13_Sheriff_Smith_Lawful_Assembly_Letter.jpg
Acceptable Activities Press Release jpg