Pole Creek and Bald Mountain Fires Still Having Impact On Land Users
Posted On : 10/2/2019 5:35:40 PM
Some areas burned by the Pole Creek and Bald Mountain Fires in 2018 still have restricted access because of continued flooding and mudslides. Many hunters and outdoor enthusiasts face disappointment when they want to use these areas.
*** PRESS RELEASE October 3, 2019 ***
US Forest Service (USFS) and Utah County Sheriff's Office officials have regularly fielded questions regarding road, trail, and area closures for USFS lands. When the Pole Creek and Bald Mountain Fires burned in 2018 vast areas of forest were burned. Following that there has been significant and repeating damage to some of those areas because of flooding and mudslides. The questions about those areas mainly focus on whether or not some of these areas are actually still closed. Signs remain in place on several roads, trails, and general use areas. For example, the Bennie Creek and Nebo Creek Roads, popular areas for hunting and other outdoor activities, remain closed because they continue to sustain new damage with each passing storm. This damage makes the roads dangerous and even impassable. Attached to this release is a flyer prepared by Uintah-Wasatch-Cache National Forest Officials that describes the problems, some of the efforts being made to improve and repair damage, and shows what roads, trails, and areas are still closed to the public. It is vitally important that people observe these closures to allow adequate time for repair, improvement, and recovery efforts to take hold and reduce the risk of further damage.
For questions contact Sergeant Spencer Cannon, Public Information Officer, Utah County Sheriff's Office.
(801)404-1912 - Cell
(801)851-4333 - Office
Twitter: @SGTCannonPIO or @UCSO
Photos :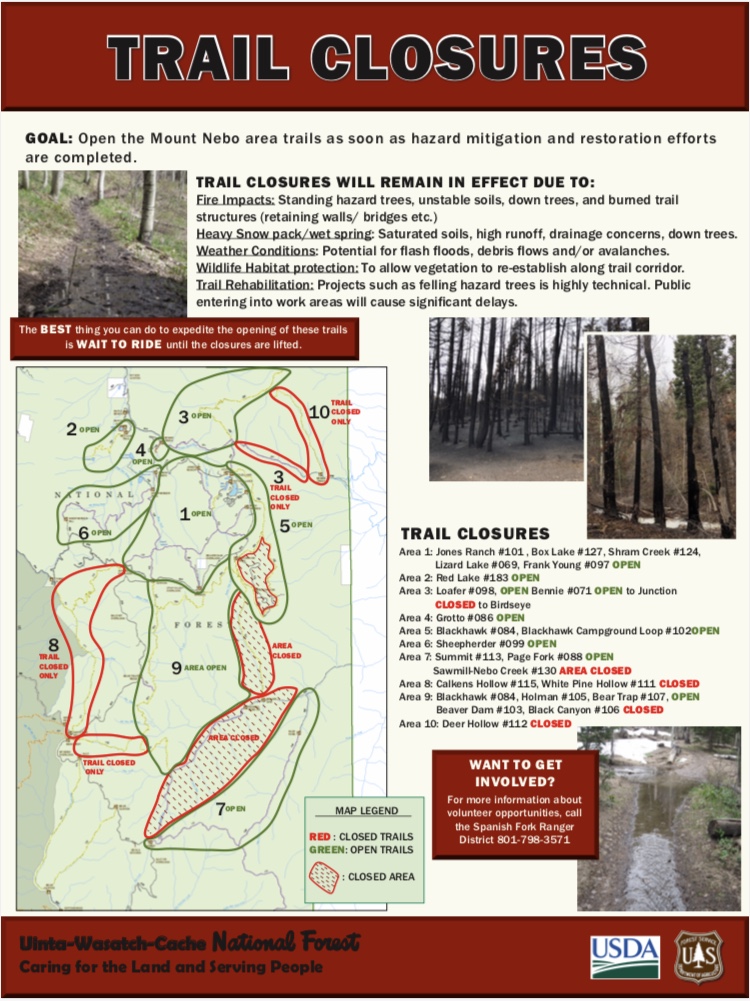 Mount Nebo road, trail, and area closures jpg
Mount Nebo road, trail, and area closures pdf
Related Documents:

(NOTE: Some documents may be in the .pdf format. You must have Adobe Acrobat Reader to view pdf files. Most web browsers include the Reader plug-in. If you do not have the Reader, it is a free download from the Adobe web site.)

MountNeboAreaTrailClosures.jpg
Mount Nebo road, trail, and area closures jpg
NeboTrailClosureKioskupdated9-30.pdf
Mount Nebo road, trail, and area closures pdf