SGT Cory Wride Remembered By Carjacking Victim And Her Children
Posted On : 6/5/2019 12:00:08 PM
The woman whose car was stolen as part of a crime spree the day Sergeant Cory Wride was killed and Deputy Greg Sherwood was shot is teaching her children the meaning of respect and sacrifice.
*** PRESS RELEASE June 5, 2019 ***
When Chetney Williams was 13 years old a man wanted for murder was found hiding on her property. When she was 20 years old she saw a masked man wielding a knife rob the Subway restaurant where she was eating lunch. Then on January 30, 2014, with her 4-year-old daughter, and 4 months pregnant, she was stopped while driving her car in Nephi. The woman who waved her arms to stop her was then 17-year-old Meagan Dakota Grunwald. As Grunwald climbed in the front passenger seat her boyfriend, Jose Angel Garcia-Juaregui, approached the driver's door and pointed a gun at Chetney yelling at her to get out of the car.
This pair, Grunwald and Garcia-Juaregui, had shot and killed Sergeant Cory Blake Wride, shot and critically injured Deputy Greg Sherwood, shot and disabled a trucker's big rig, and shot at a Utah Highway Patrol Trooper who was pursuing them. At the south Nephi interchange, when their pickup became disabled, Garcia-Juaregui then shot at police and other innocent bystanders. It was then that Grunwald followed Garcia-Juaregui as they ran from the disabled pickup. It was Grunwald who stood in front of Chetney Williams' car, waving her arms to make her stop. Grunwald was later convicted of several crimes, including her actions in forcing Chetney to stop and then taking her car.
On that day, Chetney and her daughter being carjacked was a major story. A random truck driver's rig being shot was a major story. Innocent bystanders being shot at was a major story. Juab County Sheriff's Office Deputies, Nephi Police Department Officers, and a Utah Highway Patrol Trooper being shot at were major stories. Deputy Greg Sherwood being shot was a major story. And of course, Sergeant Cory Wride being shot and killed was a major story. Together, the magnitude of what happened that day is almost unimaginable!
Fast forward almost five and a half years to May 27, 2019,Memorial Day. Shea Wride, son of Sergeant Cory Wride, and his wife, Amie Soper-Wride, were visiting Cory's grave in Spanish Fork. In Amie's words, ". . .as we were leaving we saw an unfamiliar family approach Sgt. Cory Wride's headstone with blue and white flowers." This family was Chetney Williams with her 10-year-old daughter and 5-year-old son - the son with whom she was pregnant on January 30, 2014. They came to visit Cory's grave to pay respect to the man who, as Chetney's children said, "saved their lives".
Chetney described herself, when she is pregnant, as not being a very nice person - easy to fly off the handle. But on the day Grunwald and Garcia-Juaregui stole her car Chetney said she felt an overpowering sense of calm in the midst of her fear. She was able to think clearly and get her daughter out of her car seat before Garcia-Juaregui drove away. And she believes it was Cory's spirit there helping her to remain calm.
Chetney said she takes her children to Cory's grave every Memorial Day and some other holidays. She wants them to know the man who honorably served his community. On this day she brought blue and white daisies to place at his grave. Shea and Amie, with Chetney and her children, shared a moment honoring a good man whose memory lives on.
For questions contact Sergeant Spencer Cannon, Public Information Officer, Utah County Sheriff's Office. Interviews may be possible.
(801)404-1912 - Cell
(801)851-4333 - Office
Twitter: @SGTCannonPIO or @UCSO
Photos :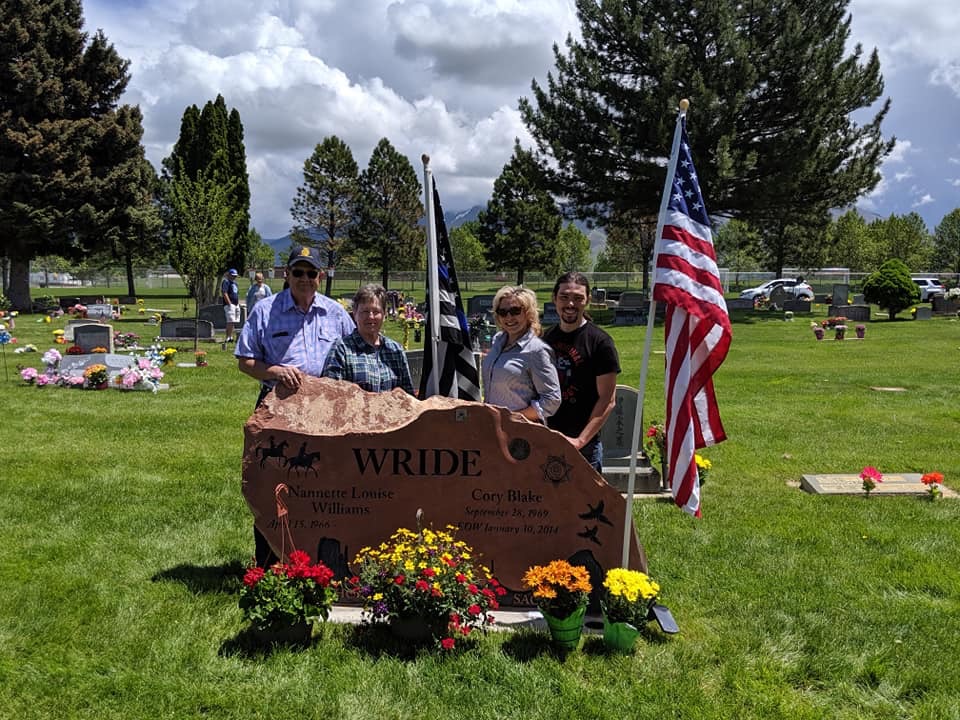 Blake, Kathy, Shea, and Amie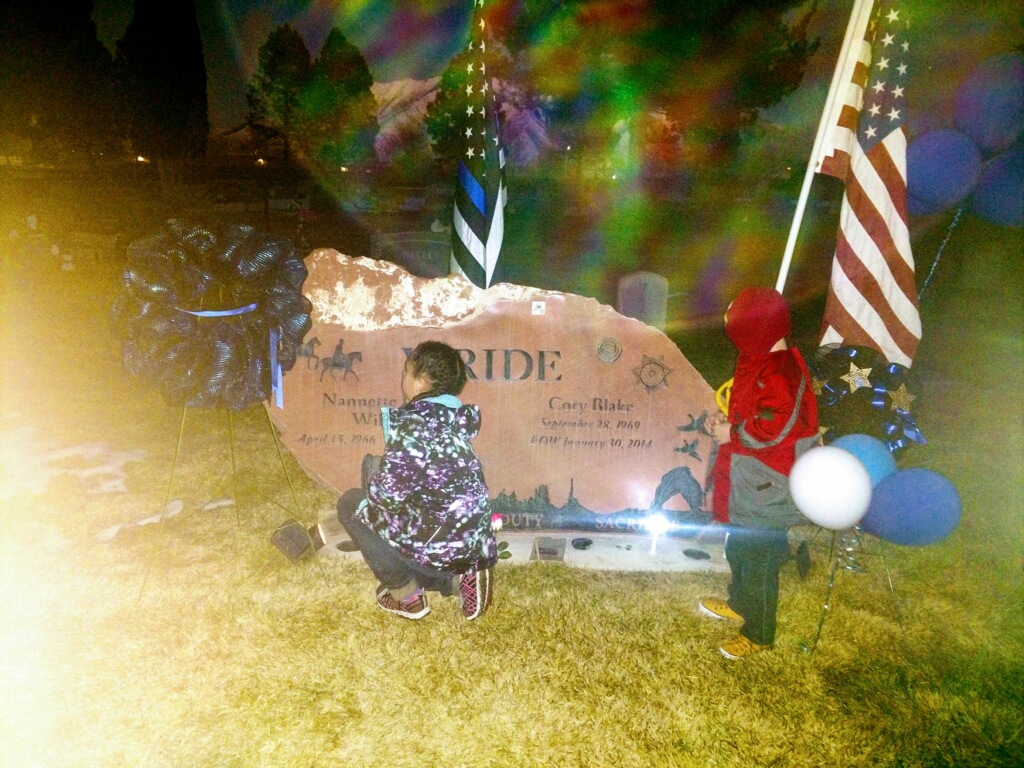 Chetney's children on another visit to Cory's grave during winter.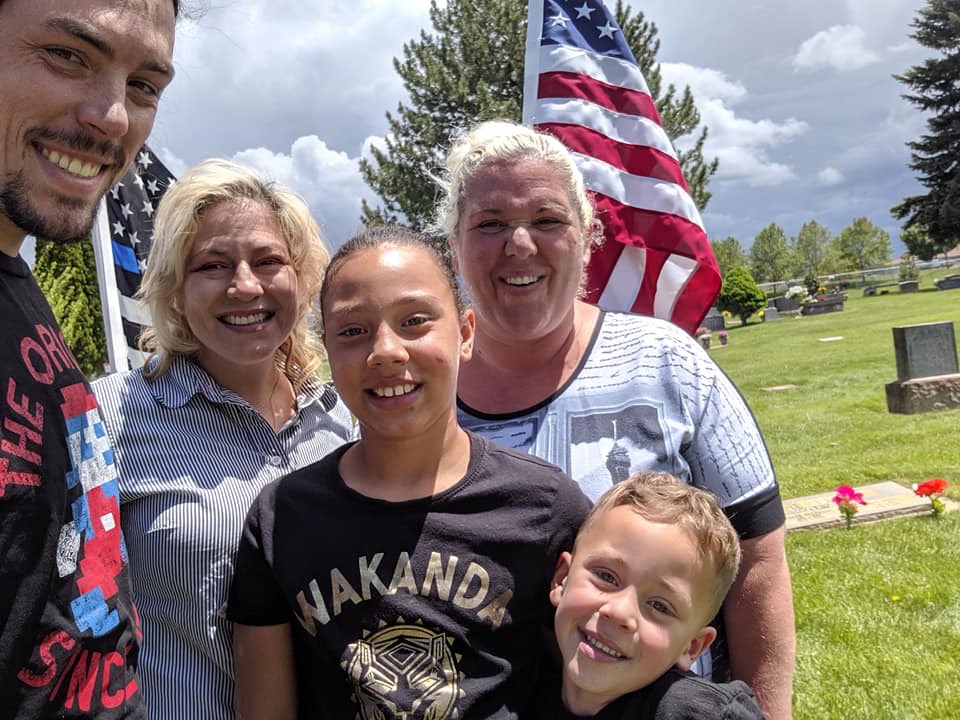 Shea, Amie, Chetney, and her children.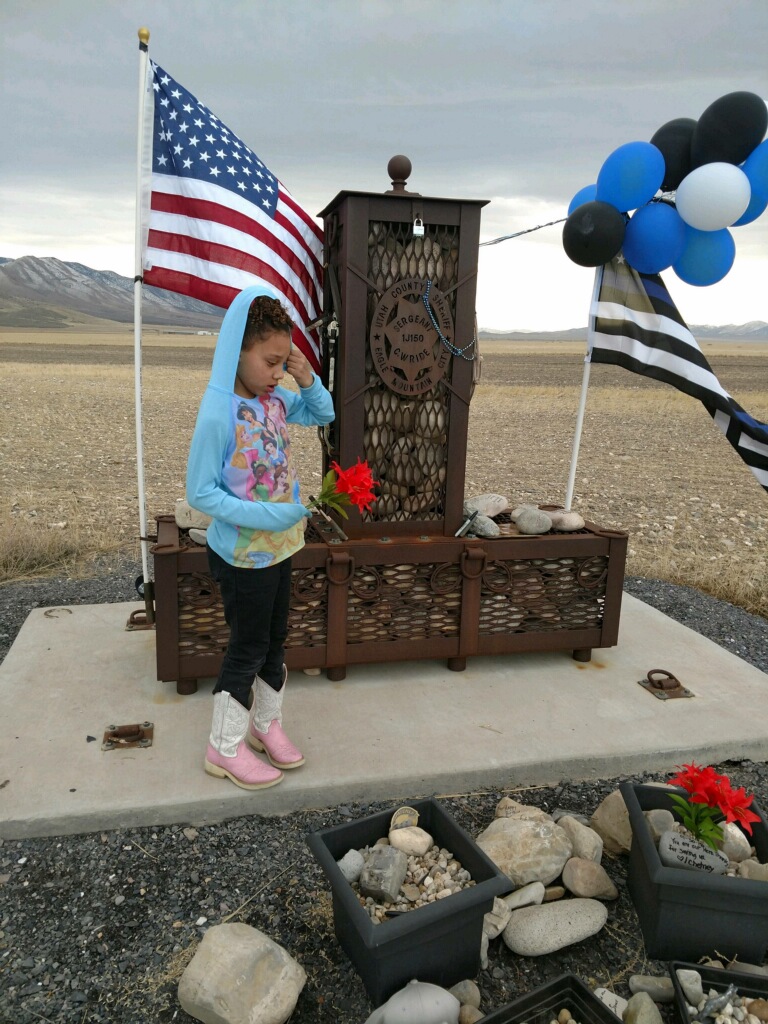 Chetney's daughter at the memorial along Cory B. Wride Memorial Highway
Related Documents:

(NOTE: Some documents may be in the .pdf format. You must have Adobe Acrobat Reader to view pdf files. Most web browsers include the Reader plug-in. If you do not have the Reader, it is a free download from the Adobe web site.)

IMG_0240.JPG
Blake, Kathy, Shea, and Amie
IMG_1361.JPG
Chetney's children on another visit to Cory's grave during winter.
IMG_0241.JPG
Shea, Amie, Chetney, and her children.
IMG_1362.JPG
Chetney's daughter at the memorial along Cory B. Wride Memorial Highway