Approaching Storms Cause Concern For Pole Creek And Bald Mountain Fire Areas
Posted On : 9/28/2018 4:48:30 PM
Weather forecasts call for rain in the coming days. Officials want those living near the areas impacted by recent fires to be aware of the potential for mudslides and debris flows.
*** PRESS RELEASE *** September 28, 2018: Weather forecasts for the next few days show a potential for rain in the area of the Pole Creek and Bald Mountain Fires. Forecasters expect rain in some of these areas this weekend and into next week. Utah County Emergency Management officials want residents who live near the areas impacted by these fires to be aware of the risks and have as much time as possible to prepare for approaching storms. Meteorologists are tracking two different storm systems that may have an impact on Utah County. Hurricane Rosa will produce winds and a chance of rain in the Sunday / Monday timeframe. After this storm system, another storm coming from California's coast is developing and creating a high chance of rainfall in Utah County. These storms bring with them an increased chance of mudslides and debris flows in the burn areas of the Pole Creek and Bald Mountain fires. We want residents to be aware of these approaching storms and take appropriate precautions and make preparations for your homes. We cannot predict with certainty what areas would be impacted in an emergency, but we want everyone to be prepared to respond should the need arise.
The website beready.utah.gov provides information about how to prepare for and respond to emergencies.
For questions contact Sergeant Spencer Cannon, Public Information Officer, Utah County Sheriff's Office. (801)404-1912. Twitter: SGTCannonPIO
Photos :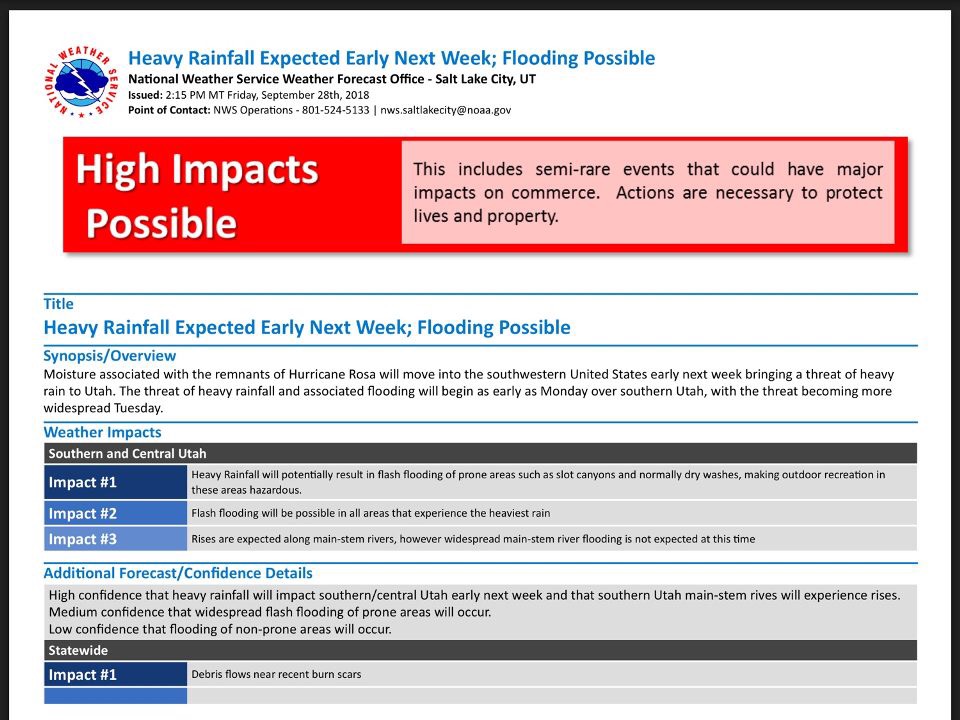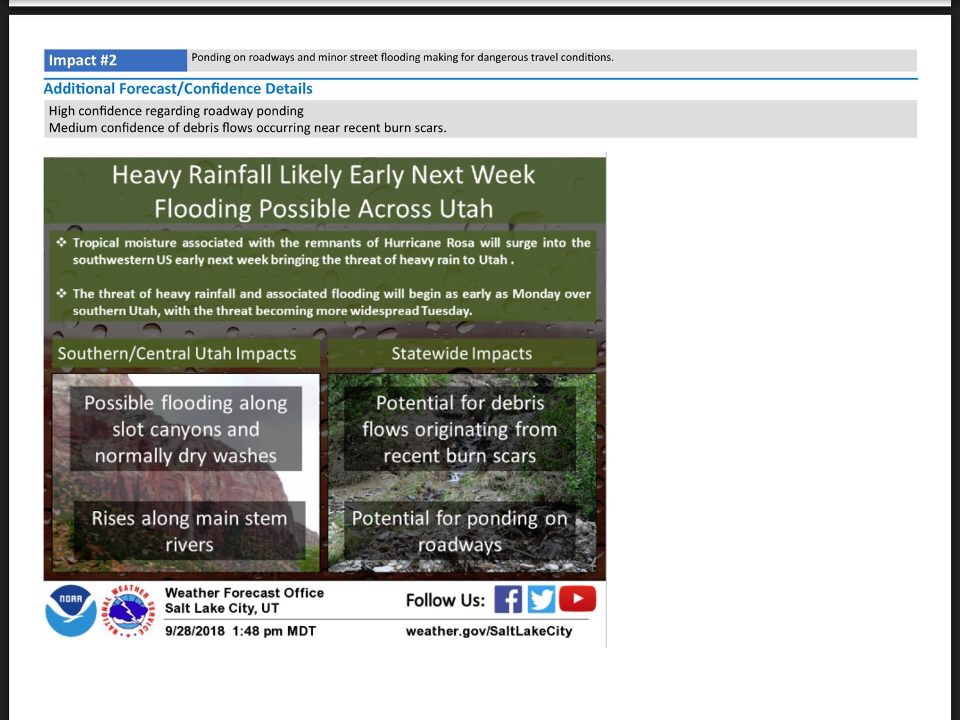 Related Documents:

(NOTE: Some documents may be in the .pdf format. You must have Adobe Acrobat Reader to view pdf files. Most web browsers include the Reader plug-in. If you do not have the Reader, it is a free download from the Adobe web site.)

2018_09_28_High_Impact_Weather.JPG

2018_09_28_Heavy_Rainfall_Weather.JPG