Fee for a Certified Copy is $10.00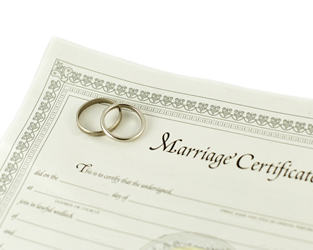 This is an official legal document, certified with a stamp and seal by the Utah County Clerk/Auditor's Office, and can be used for any legal purpose as if it were the original. Certified copies are typically used for legal name changes, insurance, and other legal purposes.

To order a copy your marriage license, use the search button below to find your record number and verify your license was issued by Utah County. Write down or print out your record number and come in the Utah County Marriage License office at 111 S University Ave in Provo during regular business hours or call 801.851.8108 or 801.851.8226. Phone orders will require a credit/debit card (Visa or Mastercard only). In-person orders can pay by cash, check, or credit/debit.



If we do not have the license you are looking for in our system, it is likely that it was not issued by Utah County. If you are not sure where the license was issued, you may contact other counties in Utah to see if they have a record of the marriage. Or, you may check the Western States Marriage Records Index.